The Bald Chef Gourmet
Choose from a selection of homemade sauces, paté, pestos, jams and delicious chocolate truffles. Made with the finest fresh ingredients, without additives or preservatives.
Sample list
Aubergine/mushroom paté, tomato and basil/mushroom/aubergine pasta sauce,
sicilian caponata, sicilian peperonata, extremely hot/medium curry sauce,
vegetarian/meat bolognese pasta sauce,mixed herbs, green/red pesto,
champagne, baileys, cognac, rum and raisin, grand marnier, tiramisú, delicious chocolate truffles,
dolcetti di mandorle
strawberry/pear/peach jam.
Mail Order
We offer a mail order service for most of our products please call Nino on: 07836 264 514 for more information.
Baileys & Champagne Truffles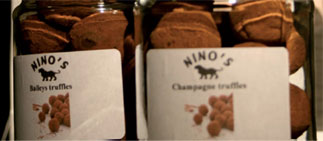 Fresh sauces, pates, pestos and jams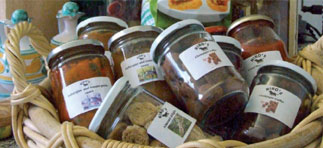 The Bald Chef 2009©