Как обойти блокировку BBC в России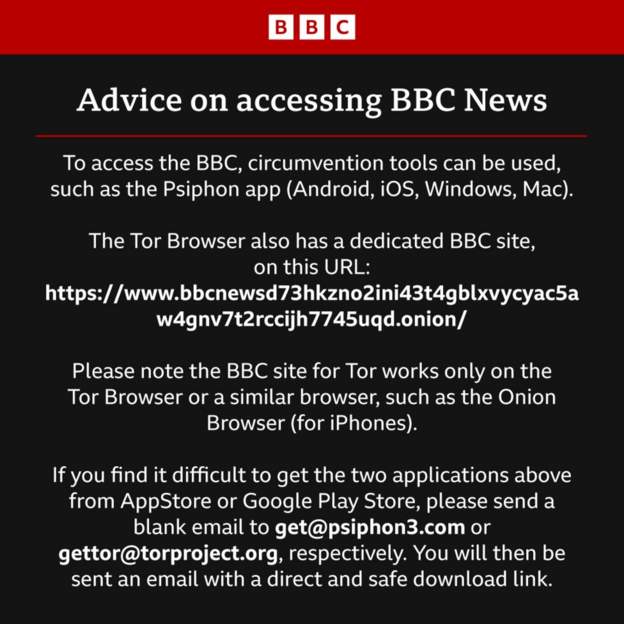 Sharing this as obviously the link that the Beeb shared here can not be seen if forwarded to a Russian, as of course, Russia has blocked all disenting voices, and as this is a pretty low traffic, not too contentious blog, I don't see it being blocked anytime soon.
The Russian authorities have restricted access to BBC websites in Russian and English, as well as other international and independent media, accusing them of circulating "false information" about what is happening in Ukraine.
In response, the BBC said "access to accurate, independent information is a fundamental human right which should not be denied to the people of Russia, millions of whom rely on BBC News every week".
Record numbers of people have read the BBC's Russian language news website since the invasion.
To get around the BBC ban in Russia:
download the Psiphon app from the AppStore or Google Play Store
look for the dedicated BBC site on the Tor Browser which can be found using this URL. Note that this URL only works using the Tor Browser or the Onion Browser (on iPhones)
if access to the apps is restricted then send a blank email to get@psiphon3.com or gettor@torproject.org. An email will be sent in response with a direct and safe download link
The BBC has also launched two new shortwave frequencies broadcasting World Service English news for four hours a day to Ukraine and parts of Russia:
15735 kHz from 14:00 GMT to 16:00 GMT
5875 kHz from 20:00 GMT to 22:00 GMT
Also, if you do have access to a nix server outside Russia, a simple home brewed VPN could be used, instructions shared here. That would bypass nearly any internet blocking.
---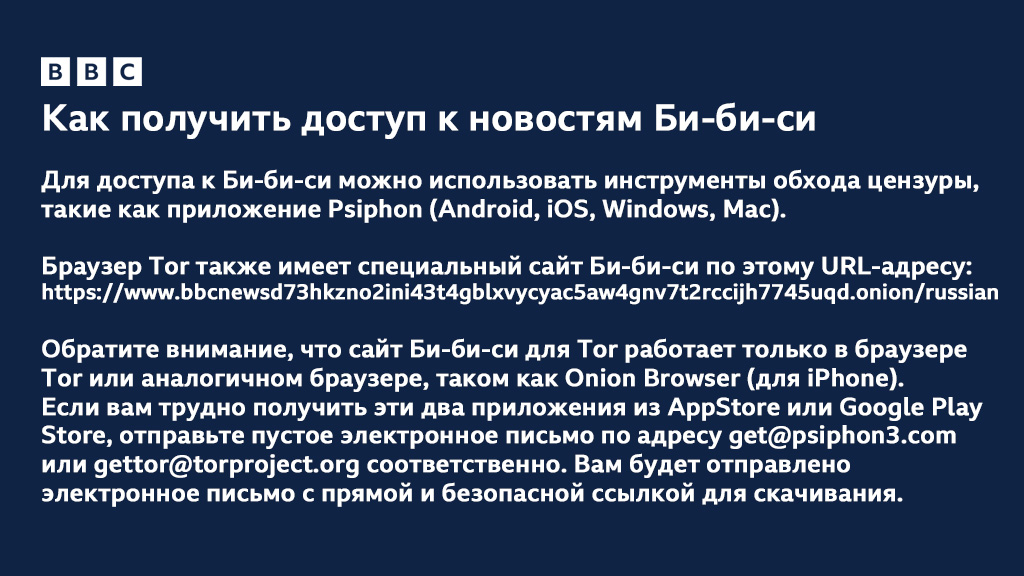 Сообщая об этом, очевидно, что ссылка, которую Биб поделил здесь, не может быть видна, если переадресована русскому, поскольку, конечно, Россия заблокировала все несогласные голоса, и, поскольку это довольно низкий трафик, не слишком спорный блог, я не видеть, что это будет заблокировано в ближайшее время.
Российские власти ограничили доступ к сайтам Би-би-си на русском и английском языках, а также другим международным и независимым СМИ, обвинив их в распространении «ложной информации» о том, что происходит в Украине.
В ответ Би-би-си заявила, что «доступ к точной, независимой информации является фундаментальным правом человека, в котором нельзя отказывать жителям России, миллионы которых еженедельно пользуются новостями Би-би-си».
После вторжения русскоязычный новостной сайт Би-би-си прочитало рекордное количество людей.
Чтобы обойти запрет BBC в России:
загрузите приложение Psiphon из AppStore или Google Play Store найдите специальный сайт BBC в браузере Tor, который можно найти по этому URL-адресу. Обратите внимание, что этот URL-адрес работает только с использованием браузера Tor или браузера Onion (на iPhone). если доступ к приложениям ограничен, отправьте пустое письмо на адрес get@psiphon3.com или gettor@torproject.org. В ответ будет отправлено электронное письмо с прямой и безопасной ссылкой для скачивания.
BBC также запустила две новые коротковолновые частоты, которые четыре часа в день транслируют новости Всемирной службы на английском языке на Украину и некоторые районы России:
15735 кГц с 14:00 по Гринвичу до 16:00 по Гринвичу
5875 кГц с 20:00 по Гринвичу до 22:00 по Гринвичу
Кроме того, если у вас есть доступ к nix-серверу за пределами России, можно использовать простой домашний VPN, инструкции приведены здесь. Это позволит обойти почти любую интернет-блокировку.