Only last week I posted about another phishing scam targeting GoDaddy clients, this client only just bought his first domain last week. He knew nothing should have been changed, so luckily when he got the email notification "Status Alert: Domain Change Notification #5361" he forwarded it on, they are obviously watching the new domains propagate and grabbing the owner's real name from the "who is", fairly well targeted.
Subject: Status Alert: Domain Change Notification #5361





Dear Valued GoDaddy Customer Larry LastName.





This notification is generated automatically as a service to you





We have received a request that the name servers be changed for the following domain name(s):




larrys_domain.com




If you are monitoring this name with Domain Backorders, the above change is also displayed in the Monitoring and Backordering section of your Account Manager.





Use the link below:




https://alert.godaddy.com/la.aspx?security=d0bb8259d8fe3c7df4554dab9d7da3c9




(linking to CompromisedSite.org/wp-includes/css/eemimhqezt.php?eemimhqezt=d0bb8259d8fe3c7df4554dab9d7da3c9)





Sincerely,




GoDaddy Domain Backorders team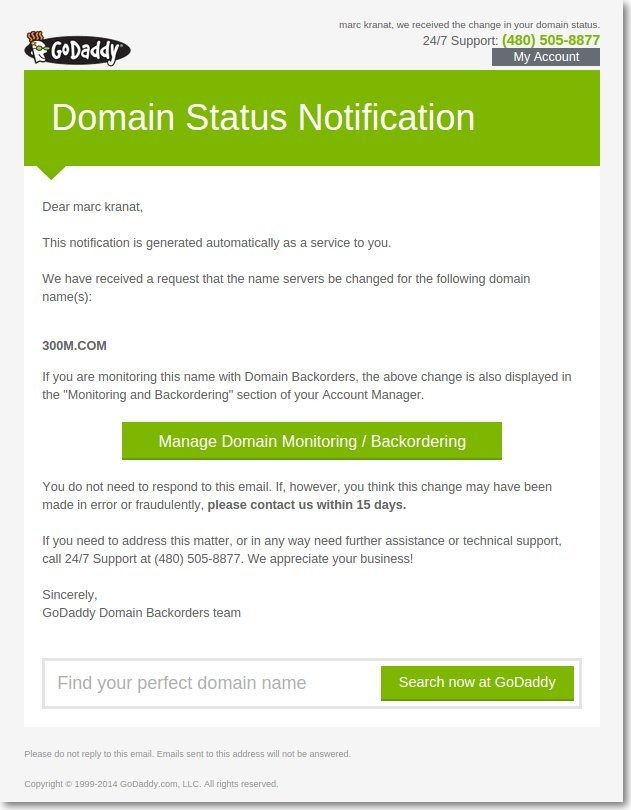 It doesn't at all look like the real Domain Change Notifications that GoDaddy send out (pictured on left), and there is some unusual grammar, the page that it links to on the compromised site is identical to the last phishing page I wrote about, again designed to steal GoDaddy clients username and passwords.
GoDaddy do have a private registration option that would have blocked this targeted abuse, but as they charge $7.99 a year for .COMs, nearly doubling the cost of registration, few people choose this additional extra.
Other top level domain names registrations I am aware of, such as .co.uk include the privacy option for free to non business customers, it might be time for all TLDs to follow this practice.
Update 26th April 2015:
This page has seen a huge increase in visits the last couple of days, as this post is 4 months old I can only think the scammers have become very active.
That said, from a dozen or so people who have contacted me that had fallen for it, none of their accounts were hijacked and they changed their passwords so have full control of their GoDaddy accounts, but it would be a good idea to check what the last IP was that logged into your cPanel (it's there on the right) and to have a poke around for new or altered files and/or run a malware scan, you can use the Sucuri malware tool at the top of the right sidebar here.